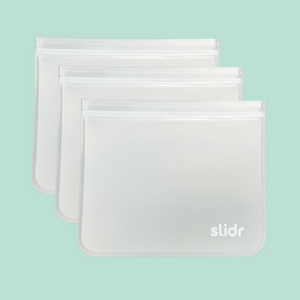 Reduce the hassle of organizing your stuff and do your part in saving Mother Earth with Slidr PH Storage Bags! Store absolutely anything in your very own Slidr, a reusable stand-up storage solution with a double-lock seal, perfect to use at home, work, school, or even when traveling!
This pack contains:
3 Large Slidr (2800 ml -

280mm x 280 mm

)
MATERIAL: PEVA (polyethylene vinyl acetate)
PEVA is a non-chlorinated vinyl and is commonly used as a substitute for PVC (polyvinyl chloride), a type of chlorinated vinyl. PVC is a known carcinogen and should generally be avoided where possible. Products manufactured from PEVA are considered to be a healthier alternative to PVC products.
FEATURES:
Freezer-safe
Reusable and eco-friendly
Free from BPA, PVC, and lead
Food grade PEVA storage bag
Airtight and leakproof double-lock seal
CARE INSTRUCTIONS:
Keep away from heat

Wash with lukewarm water and soap
Hang to dry