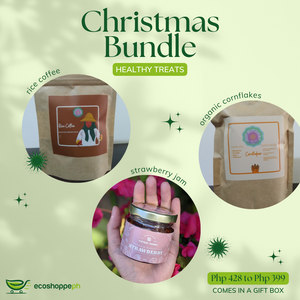 Christmas Bundle curated just for you with FREE GIFT PACKAGING!
It's always a great time to embrace healthier eating habits. Celebrate the holiday season with these healthy snack treats—time to gift yourself and your loved ones locally-sourced goodies. You're helping our local farmers too, so it's a holiday win-win.
1 x Hip Kitchen Mnl Rice Coffee - Your choice of Plain or 3-in-1
1 x Hip Kitchen Organic Polenta Cornflakes
1 x Figtree Farms Strawberry Jam
Each gift bundle is packed in a gift box filled with shredded kraft papers. The items are wrapped with honeycomb wrapping paper.