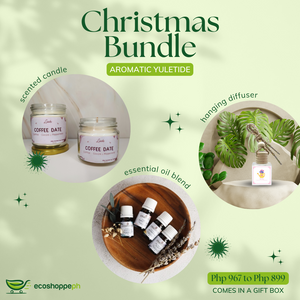 Christmas Bundle curated just for you with FREE GIFT PACKAGING!
Make Christmas more magical by gifting your loved ones with these aromatic treats. Experience the magic of premium blends with this Christmas bundle, which includes:
1 x Lush by SBH Scented Candle - Your choice of Coffee Date, Merci, Self, or Sweet Escape
1 x Hanging Car or Room Diffuser - Your choice of scent
1 x Aurae Natural Essential Oil Blend - Your choice of blend
Each gift bundle is packed in a gift box filled with shredded kraft papers. The items are wrapped with honeycomb wrapping paper.