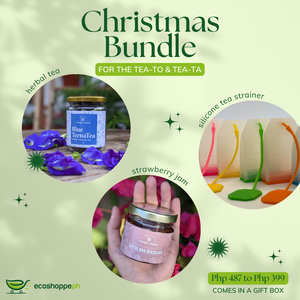 Christmas Bundle curated just for you with FREE GIFT PACKAGING!
Time to embrace this era by indulging in premium and organic tea sets. Enjoy this curated bundle made just for the tea-to and tea-ta this holiday season! This bundle includes
1 x Figtree Farms Herbal Tea - Your choice of Hibiscus or Blue Ternate
1 x Silicone Tea Strainer - Your choice of color
1 x Figtree Farms Strawberry Jam
Each gift bundle is packed in a gift box filled with shredded kraft papers. The items are wrapped with honeycomb wrapping paper.